Moraa Educational Complex (MEC) is excited to announce a great opportunity for students!
There will be a second opportunity of board exams (Kankor). The Board exams will be held on 7 September 2017(16 Sunbula) with suitable fees, with several different times.
The MEC has been certified by international ISO 9001. MEC also has an outstanding reputation as safe and secure Complex. The MEC offers reasonable fees and in some curriculum (for qualified Students) discounts and free admission in numerous faculties: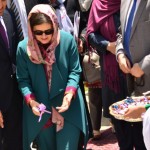 Country's first lady, excellence Rolla (Bibi Gul) Ghani  as well as some governmental and non-governmental high rank officials participated in inauguration ceremony of MEC on 31 May 2016.