Kankor Examination Announcement!
All High School women students of year 1396 will be notified to register themselves to the Moraa University for Kankor Exam either through Moraa Reception or Student Affairs Department from now onward. Meanwhile, the Kankor Exam date for the year 1397 will be on 25/Hot/1396.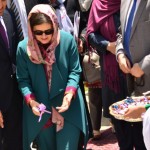 Country's first lady, excellence Rolla (Bibi Gul) Ghani  as well as some governmental and non-governmental high rank officials participated in inauguration ceremony of MEC on 31 May 2016.