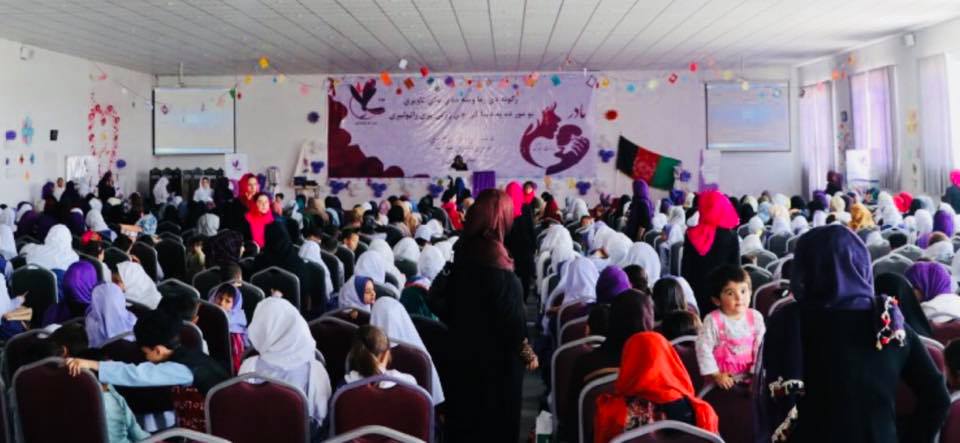 Mothers' Day
On Saturday, 1397/ 04/ 09 caught the honor of celebrating the mothers' day for Moraa's mothers and all mothers in the globe that was held at Moraa Educational Complex (MEC) conference hall.  Worthy to mention that due to public holiday for the sake Eid al-Fitr in Afghanistan, MEC could not seize the opportunity to celebrate this holy day on its actual day which was 1397/ 03/ 24.
The program of the Mother's Day included two major parts: the first part include speeches, songs, articles, poems, theater- also, distribution of greeting cards with fresh flowers to the mothers present at the conference hall and the second part was the distribution of certificates for the first grade students of the University, Afghan Institute of Health Science, Afghan Women High School and the honorary children of Afghan Warakton and the exhibition for handicrafts and Afghan foods.
The program began by reading a few verses from the Holy Quran by one of the Afghan Women High School students. Later, the national anthem was started by Afghan Women High School students; earlier the speech delivered by Dr. Malalai Salimi, Vice Chancellor Academic Affairs to the deceased mother of Dr. Azizullah Amir, the founder of the Moraa Educational Complex and later, her deseased mother's photo donated to him. Later, Dr. Palwasha Ghani Shaheen, the Moraa University Chancellor, delivered a speech on this blessed day and addressed the social and political importance of celebrating this day and future plans for the various departments of the Moraa Educational Complex. The second part of the program was honored at the MEC yard, which featured students' crafts, paintings, decorations, cooking of various types of Afghan food and other handicrafts. The program was welcomed by guests and attendees.